Who lives at OUV?
Cohousers are all kinds of people. Our current members represent every generation. We come from a variety of backgrounds, life stages, family types, and beliefs. We hope that at least 30-40% of us will be families with kids. What ties us together:
We love living in a walkable, bikeable urban setting
We are excited about growing our own food (or at least trying).
We love eating and cooking together
We are excited about the opportunities to reduce our environmental footprint
Carol
I grew up on a family farm in Saskatchewan, surrounded by cousins, aunts and uncles, until I was 13. Since then, I've lived in every sort of environment. On acreage in Langley (where I raised my two kids), in suburban Montreal, in rural Ontario and now in Toronto in my downtown townhouse. Each has its own appeal and the people I cared about in each place are still in my life.
In Toronto I've developed a network of neighbours who trade services, recycle household items, and watch out for one another. I'm attracted to cohousing because I love this feeling of community when neighbours look out for each other.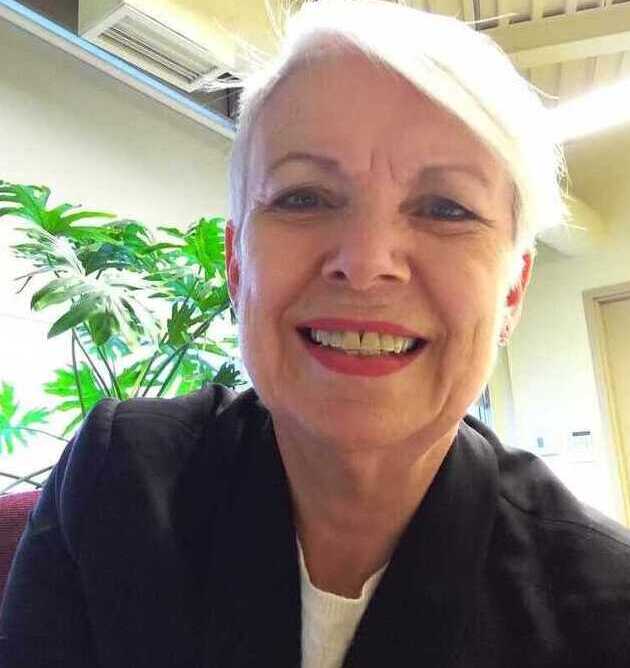 Cathy
I grew up in Alberta and came to Vancouver in 2008 to train in a second career. I fell in love with this city and decided to stay despite leaving my friends and family behind. Cohousing is the best of worlds for me in that I can enjoy close relationships and support within this community, but still have my own space when I need some quiet time. I'm a recent e-bike commuter and enthusiast! I enjoy theatre, knitting, reading and tap dancing.
Read more about Cathy on our blog: Looking for people around her table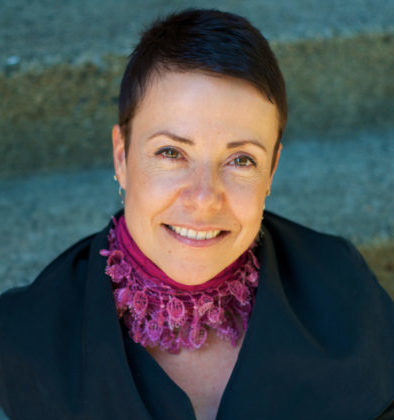 Chris
Born on the prairies, raised on the west coast, I've been lucky to be a part of many wonderful communities over the years – in work, in play, and now in home. Choosing cohousing made perfect sense as a way of sharing experiences and support with others who believe taking care of their home encompasses their neighbours and the larger community around them.
In my free time, you can find me exploring the city by foot or by transit (there's always something new to discover!), playing tabletop roleplaying games, or enjoying a local theatre performance.
Read more about Chris on our blog: Prairie girl finds community, again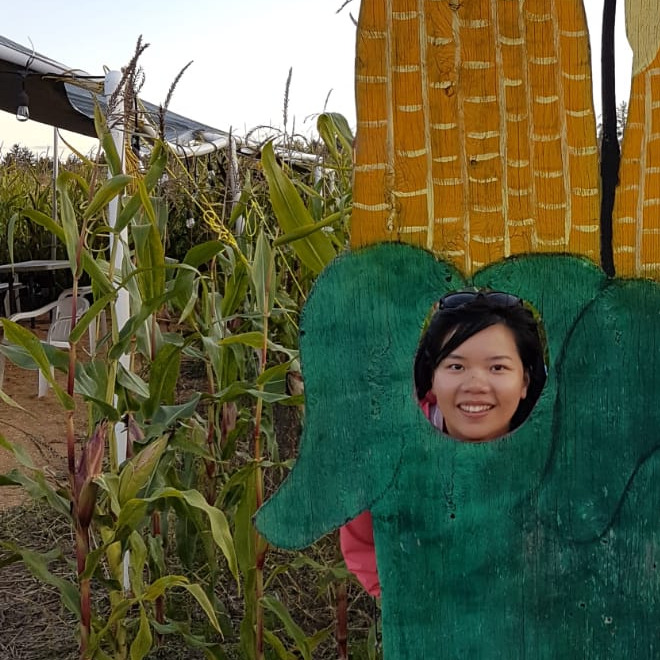 Christine and Alistair
Having lived in a number of cities in the UK, France and Canada, we are confirmed urbanites who love to walk and bike throughout Vancouver all year round. Mount Pleasant has been our home for over 10 years so Our Urban Village is an ideal cohousing option for us. We are excited by the prospect of living and sharing with like-minded people who are seeking to build a strong community where they live.
In our spare time we engage in yoga, making music and try to make the most of the arts scene around the city.
Read more about Christine and Alistair on our blog: Cohousing eases the pain of faraway family
Gillian and Imogen
We moved back to Vancouver from Cape Town in 2018. I was drawn to cohousing by the idea of living with others who want to live lightly, collaboratively and in community. I think there are few things finer in life than good conversation over shared food. And wine! As an urban planner, policy analyst and environmental economist, cohousing is an absolute no-brainer for me. I love living in a walkable city, and am at my happiest walking in nature, or kayaking the gorgeous BC waters.
Imogen is a keen minecrafter, and recent convert to parkour. She loves cycling, baking, sketching, and crafting. Her favourite things to watch are 5-minute crafts, baking shows and minecraft.
Read more about Gillian and Imogen on our blog: Our long and winding road to cohousing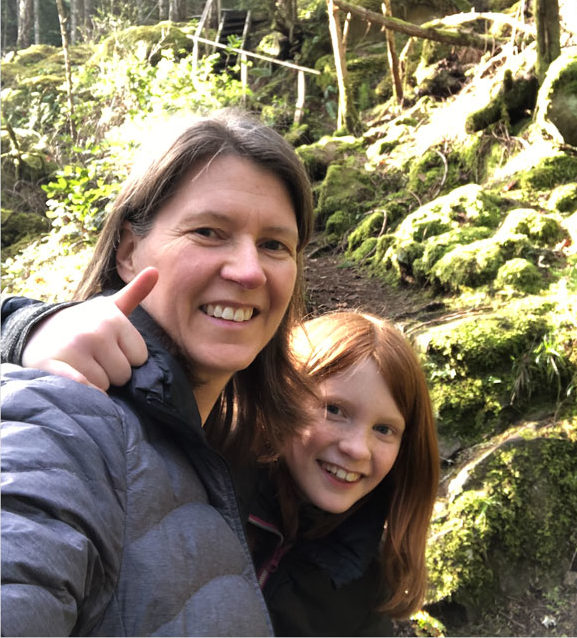 Kathy
My attraction to cohousing is probably the result of our family moving every couple of years when I was a child. I have a built-up longing for deep roots and knowing my neighbours. Location is a big deal for me. I'm a walker and an urban location means strolling down Main Street for coffee with a friend or hitting the library and community centre. I love art, really long walks like the Camino Real and I'm a relentless reader.
Read more about Kathy on our blog: Single retiree finds community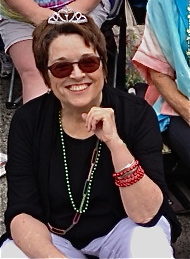 Lee and Julia
We met in Ontario and decided to move back to Julia's hometown of Vancouver (mainly to avoid the snow for a bit). We loved living in Vancouver where we can walk everywhere and enjoy great restaurants. We met a wonderful community of parents within the city once our first baby was born but sadly many of our friends have started to move to the suburbs. We wanted to stay put if we could find a way. We love the sense of community that can be gained through co-housing and look forward to the connections built through Our Urban Village.
Read more about Lee and Julia on our blog: The accidental cohousers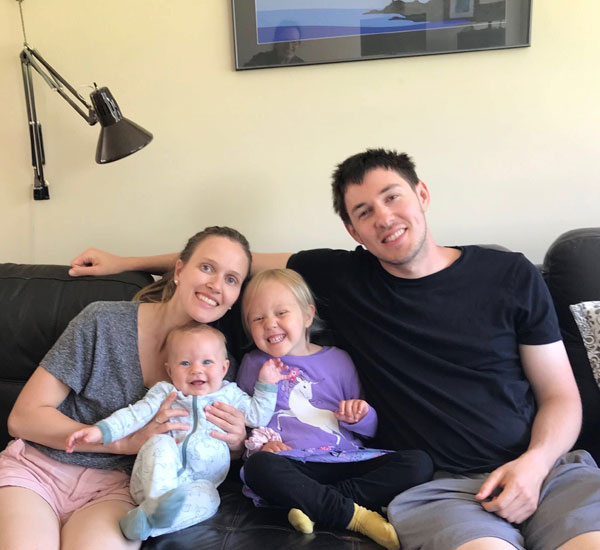 Tara and Aaron
After meeting in Boston and living there together for four years, Tara imported Aaron to Vancouver in 2013. Since then we've grown our family (Felix born 2015, Zelda born 2017) and love all that our city has to offer. Cohousing is just the sort of vibrant community that we hoped to raise our children in.
We are committed urbanists and place a high value on sustainability and social justice, both in our personal and professional lives (transit planning and labour communications). When we have free time, we enjoy cooking, exploring the city by bike, board games and photography.
Read more about Tara and Aaron on our blog: Seeking the village it takes to raise a child