Seeking the village it takes to raise a child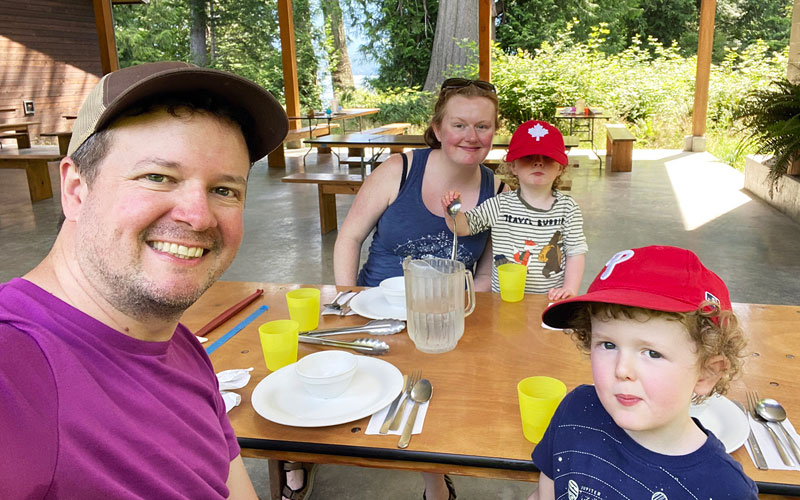 Tara's and Aaron's childhood experiences could not have differed more. But their desire to live in cohousing has the same roots: they want their kids to grow up in a big warm community and to live in one themselves.
Aaron grew up in Connecticut in a small, loving family with a dad who is a labour organizer and a Mom who is a nurse and lifelong student.  "It was really a pretty good childhood," he recalls. "I grew up in an environment that really valued social justice. My parents moved to Connecticut as adults, so we didn't have family nearby, but through their activism my parents built a community of friends who became our local extended family."
Meanwhile across the continent and in another country, Tara had an entirely different experience. Her parents divorced, acrimoniously, when she was six and she was raised by a troubled single mother. "I had to leave home at 16 and reconnect with my dad who I hadn't seen much in 10 years. There weren't really any grandparents, aunts or uncles that I could go to. It was tough."
"I learned pretty quickly to be independent," says Tara. To put space between herself and Vancouver for a while, she applied to universities in the US and chose an Ivy League school that offered scholarships to Canadians, a rarity at the time. "I loved the experience. And I loved the field I had chosen (urban planning). But I always knew I wanted to eventually return home to Vancouver, because it's the best place in the world to live."
Aaron, who was quite comfortable staying close to family, settled on Tufts University in Boston to study computer science. He realized, though, that while he enjoyed his studies, his passion and upbringing in worker justice was steering him in a different direction. "There was a strike of janitorial workers on campus and I quickly became involved with their campaign." Aaron found he was destined to be a labour organizer, like his dad. After graduation, he was hired by a union that trained  organizers by sending them all over the country to different campaigns. "That experience was invaluable, but I was disconnected from family and friends. I decided to return to Boston."
Their paths finally crossed when Tara took a dream job in Boston. Lightning struck when she met Aaron on a Valentine's dinner date through Craigslist. She told him right away that she wanted to return to Canada within 2 years and he seemed undaunted. Within months they were planning their return together.
It took a couple of years to pull it off, but they finally made it back in 2013. Their first years in Vancouver were career-oriented, focused on landing smoothly in a new city and making employment connections.
"Vancouver is a great place to live, but building lasting bonds in a new city can be so challenging." Then along came Felix (now 5) and Zelda (3) and everything changed.
"We began to feel just how alone we were in our everyday lives with small children. Tara's parents had died. Mine visited frequently, but we had no sense of local community. In our highrise, people tended to move out soon after having kids," said Aaron.
They attended an Our Urban Village cohousing information dinner at Sal y Limón because they were mildly interested, it was a chance for a meal out on a Friday night and there was a play area for kids. "We thought it was intriguing but it almost seemed too good to be true. We needed to upgrade our 2-bedroom space eventually, and we wanted to stay in the city, and we were in a position to buy, but we didn't want to end up in another condo where nobody knew each other. But the more research I did into cohousing, the more I thought OUV might be what our family needed," says Tara.
Turns out she was right. Doing something as hard as building a cohousing community creates strong personal bonds. "Our lives are richer. These are the people we socialize with. They remember our kids' birthdays and were glad when Felix got into the fantastic neighbourhood kindergarten two blocks from where OUV will be built. They will be the local aunties, uncles, grandparents and cousins for our children and the caring neighbours for us," says Tara.  'We couldn't be happier that we found OUV."