Our long and winding road to cohousing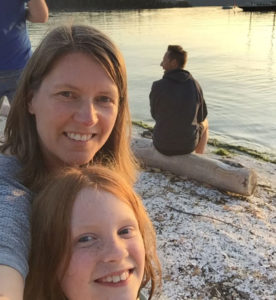 I became interested in cohousing long before I even knew cohousing existed. Even in my twenties, I sensed that there had to be a way to live in community with people who liked and supported each other. In my home country South Africa, nothing like cohousing existed so I had no name to put to the concept I was looking for.
In Cape Town, we had what seemed like a perfect life. Fresh out of urban planning graduate school, my husband Jules and I had good jobs, I was near my family and lived in one of the most beautiful cities in the world. After almost 10 years of extremely rewarding work for a small public sector consulting firm that specialised in supporting local government decision-making in the public interest (nice and vague that, isn't it!), I had an overwhelming urge to shake things up again.
So, we decided to broaden our horizons by traveling. And why not study further? Honestly, I was the instigator. I felt like this was probably the ideal time in our lives to explore. I wanted to experience another country fully, not just as tourists. And we chose Vancouver because I'd always been fascinated by its natural beauty. And it's record with urban planning!
I enrolled at SFU to study public policy and environmental economics and we settled in while I finished my Masters. Along the way, we had the wonderful surprise of Imogen, my now 9 year redheaded, incredibly verbal and artistic daughter.
I loved living in Vancouver, but it didn't do much to address my feeling of being unconnected to people around us. We lived, like most people in Vancouver, in an apartment where we hardly knew our neighbours.
We returned to South Africa when Imogen was in kindergarten. Sadly, our marriage broke up but her dad is still an active co-parent with me. I moved into an apartment near my parents, became a director at my old company, and settled back into life in Cape Town. Reuniting with family was wonderful, work was rewarding, but my concerns for the future of the country didn't change. Finally, I drew a line in the sand for myself. "If this thing happens, I'll leave." And the thing happened.
Together with Jules, my now ex, I returned to Canada when Imogen was eight. Being a single mom, though, made me even more interested to finding a community to raise Imogen in. While still in Cape Town, I'd come Grace Kim's Ted talk about urban cohousing. Finally! This was how I wanted to live. I started researching cohousing in Vancouver, and put myself on every mailing list I could.
Over time I looked at the other cohousing communities in Vancouver, but most were full. Then last summer, I discovered Our Urban Village had openings. At the time I was actively looking for a condo, but this was what I'd been hoping for. So I went to a workshop and a few other community events to meet my potential future neighbours – and was immediately drawn to them. It wasn't an easy decision in expensive Vancouver to commit, but in the end my longing for a community of kind and considerate human beings to raise Imogen in tipped the balance.
It's been a long time coming, but I'm so looking forward to putting down some roots surrounded by a caring community.