Cohousing eases the pain of faraway family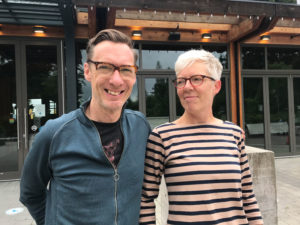 What do you do when the life you've made for yourself is thousands of miles from family and home? Building a new one might be a viable solution.
Born and raised in Scotland, Alistair left the UK for a two year job in Kingston Ontario in 1992. His move mirrored his uncle who immigrated in the early sixties. Like his uncle, he doubted if he would ever return to Glasgow.
Christine, meanwhile, the child of a military man, was constantly on the move. While Ottawa is where she considers home, she's made connections and friendships in many Canadian cities and overseas.
Christine and Alistair met at Queen's University. Soon after graduation, like many young couples, they headed out to see the world before settling into long-term careers. It was a mixed experience. They settled first in Orleans, France, which Christine, a native French speaker, expected to love. "I felt surprisingly disconnected," she says, " and a little disappointed not to feel more at home."
Then they moved to London where they fell in love with the vibrancy of a big, cosmopolitan city. Despite having little money, they had a wonderful time. "Somehow, we managed to take advantage of every (free) thing the city had to offer," says Alistair.
After a few years, though, they felt a longing to re-establish roots back in Canada. When a job offer came through for Alistair in Vancouver, they jumped at the chance. They've never regretted the decision.
"We thoroughly enjoy life in Vancouver but being far from family has its disadvantages. Of course when we do catch up with our loved-ones after a long absence, we take extra pleasure in seeing them. But, we know we miss out on important events and milestones. The simple fact is that when a couple from two continents comes together, there is no straightforward way to satisfy both our needs in terms of where we live."
— Christine
"That's one of the reasons we're drawn to cohousing," says Alistair. "This community is not meant to replace our roots or blood relatives but it will be an opportunity to build an extra arm of family in the Vancouver area."
What do they look forward to in their new community? Christine is an avid cook who doesn't find the prospect of cooking dinner for 28 people at all daunting. She's already committed to figuring out how to maximize the garden on OUV's extremely small urban plot. As for Alistair, diving into a different way of life in a new community feels like a natural next step. "Boarding a plane for Canada almost 30 years ago felt like a big step, so jumping into a new cohousing development seems like it should keep the adventure going."