Looking for people around her table
I grew up in Red Deer Alberta, the oldest daughter in a large family. In those days, families ate their meals together. As kids, we even ate our lunch at home with our dad because we all 'worked' close enough to home. Our large family meals were about what you'd expect. Noisy. Newsy. Sometimes contentious. There was a joke in our family that you should never let someone pass you a plate of food because you'll be left holding it and unable to find a spot for it on the table. What a luxury I never realized that I had or that I would miss!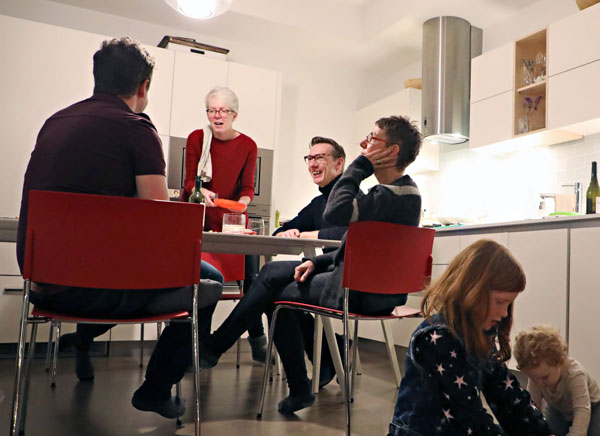 As the years passed I hit all the major milestones. I went to university, settled on a career – accounting – and got married to a guy I met at school. My life looked like it was on a predictable and desirable path. Then things changed.
My marriage ended and I was disenchanted with my career so I began looking for something that suited me better. I had always been interested in nutrition and health, so I went back to school and my path eventually led to naturopathic medicine.
Little did I realize that when I arrived in Vancouver to complete my training, I would not be able to imagine returning to Alberta winters (I miss the sunshine though…). So I made the difficult decision to replant myself in Vancouver and become a long-distance friend and family member to all the people I had cultivated in my life. After graduating my program, I 're-entered the world' and started creating connections with like minded people. I started tap dancing again at a wonderful studio and I started knitting and have found a great knitting group. It was difficult starting over in a new place.
I reignited my quest for personal growth with the Vancouver Unitarians and this is where I met a cohouser and learned about cohousing. Eureka! What an incredible idea and this is what was missing in my life. I began exploring cohousing and when a space became available last summer with Our Urban Village I committed quickly.
I've only been able to put into words recently what I was looking for by joining OUV. I wanted to have the feeling I'd had at our family's dinners those many years ago. I wanted to eat regularly with a community of people I knew so well that I understood their inside jokes. I wanted to pass plates of food to people around my table again (:D).