Prairie girl finds community, again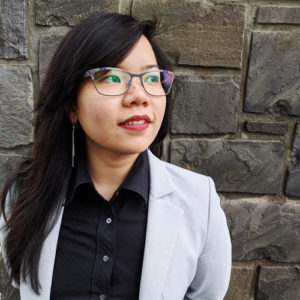 When Chris's parents emigrated from Vietnam, they were asked to choose where they wanted to live. Knowing nothing about Canada, they decided that the middle of the country seemed sensible. So they chose Saskatoon. The first snowfall was a life altering experience for them. "What have we done?" they asked.
"In retrospect, they made a great choice," says Chris. "It's true what they say about folks from the Prairie. They're inviting and open-hearted. Though I was the only Asian kid in my class, I was accepted without question. I was at other kids' houses more than my own sometimes."
The family moved to Vancouver when Chris was 12 and she fell in love with the beauty and warm weather. But she also experienced unexpected culture shock. "I went from being one of a handful of Asian kids at school to being just one of many. But I felt surprisingly disconnected. The acceptance and warmth of Saskatoon was missing."
After graduating from university with a degree in Health Promotion, Chris moved from one job of her own creation to another. 'I'm more interested in addressing underlying problems in the workplace than putting a bandaid on them. Fortunately, whatever I proposed, my employers seem to buy. I've worked on some really engaging projects."
Along the way she bought her first home, a condo in Surrey. "I knew one guy in my building. I found myself looking out the peephole just to check if other people really lived on the same floor. It was great to have my own place, but it was also strange how difficult it was to actually run into and get to know my own neighbours."
Chris has been interested in cohousing for a while. When she found out that OUV had units available, she signed up to be an associate member fairly quickly. "I guess wanting to be part of a community again is deep in my bones," she said.
What is she looking forward to when she moves into OUV? Sharing her passions for musical theater and game nights.
"There's nothing better than playing and laughing with friends and family."