Viking adventurer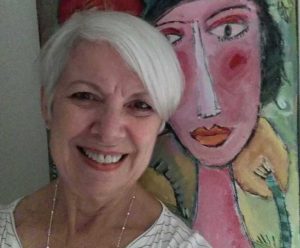 Carol's Norwegian roots are obvious in her fair complexion and height, but the wandering spirit of her Scandanavian ancestors wasn't apparent in the first years of her life. "We lived on a farm in Saskatchewan and regularly saw our extended family. Chickens, farm animals, open space — it was a wonderful childhood," she says.
When she was 13, the family moved to the small city of Estevan, SK. "It was a new experience but as the tallest girl in my class, I discovered basketball and that helped. My love of sports lasts to this day. Later, I became a marathon runner and I'm still an avid pole walker and hiker."
At University of Saskatchewan, where she studied to be a pharmacist, she shared a house with other students, and also joined an Operations Crossroads program in Ghana where she lived and worked with students from Canada, the USA, and Ghana for the summer. "It was amazing. I think those memories of sharing work and living with others is what attracts me to cohousing." That experience also whetted her appetite for more travel and new adventures, globally.
Since university, where she met and married her then husband, she has lived in every sort of situation imaginable. Suburban Montreal. Acreage near Langley, BC where she raised her 2 children. A city home in Kitsilano, Vancouver. And, now, an urban townhouse in Toronto. "Each place had its own appeal and I still have friends from every place I've lived," she says.
Her children seem to have inherited the sense of adventure. Until recently her son, who recently returned to Vancouver, lived in New Zealand. And her daughter lives with her English husband in London. "Now that I've retired, I want to come back to Vancouver, which feels like home to me."
"I've been looking at cohousing for some time. When I looked at the communities that had openings in Vancouver, I was drawn to OUV. After living in Toronto, I knew I wanted to be where there are lots of activities and amenities. OUV's location is perfect for me."
As the only member of OUV that doesn't live locally, Carol has had to get to know the community via ZOOM.  "It's been strange meeting everyone virtually, but they have made me feel so welcome I feel like I'm part of the community."
What does Carol hope to share?  "In Toronto, I've had a great experience with neighbours who trade services, recycle household items, and watch out for one another. I'm looking forward to having the same experience with the OUV community."