The accidental cohousers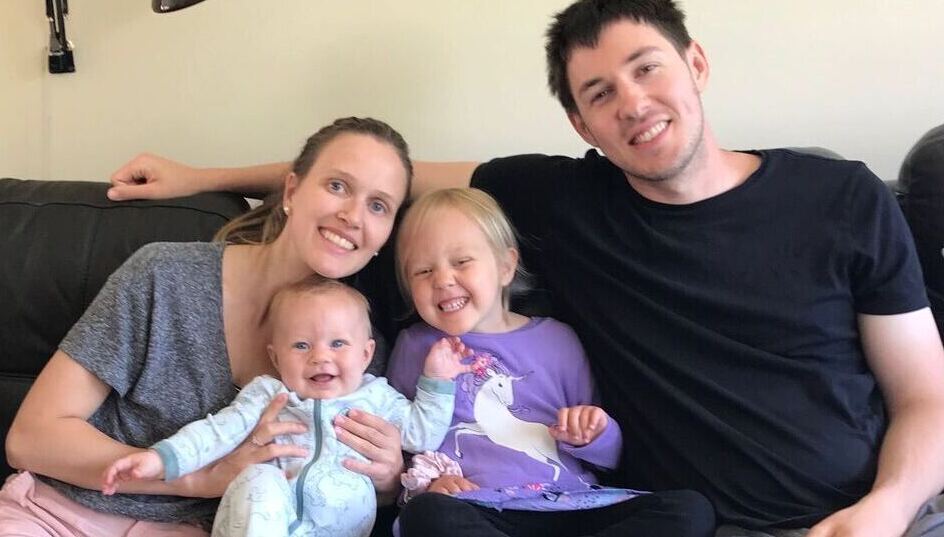 "We are not planners," says Julia. When she saw the notice for a cohousing info session she thought, "It's a couple of blocks from our house, I really don't know anything about cohousing and it sounds sort of interesting. Why not?"  She and Lee packed up their new baby and their three year old and dropped in.
The rest, as they say, is history, though it did take several months before they became members. " We were taking rotating maternity/paternity leaves after the baby was born and we didn't qualify for a mortgage at the time. But when we were ready the unit we wanted was still available."
They met in university at Guelph where Lee majored in Chemistry and Julie was in Environmental Engineering. "We're both quiet people and can literally go hours without speaking. We are comfortable together."
When they finished school ten years ago, they made another non-planned decision. They agreed that one of them would follow whoever got the first good job offer. That turned out to be Julia, so they came back to Vancouver where Julia had grown up. Soon after, they both had jobs in their fields, and they bought a small condo just off Main Street.
Five years later their quiet life took a turn in a noisier direction when their extroverted daughter was born. When their second daughter came along their one bedroom apartment began to seem small. "We were looking for a larger condo when we came across OUV."
Why urban cohousing? "I knew I wanted to live in the city and wanted my kids to grow up there." Lee had been raised in a remote suburb in Ontario where he knew almost none of his neighbours. "There was so little to do there that kids got into trouble just for excitement. I love all the stuff a city has to offer."
They don't speculate what it will be like to live in cohousing. They simply don't like to predict what will happen next (because they are not planners). "Knowing our neighbours well just makes sense to us. We like the people in OUV and figure we'll be able to work out any problems as they arise."
Lee is honing his cooking skills through a meal prep service they get delivered several times a week. He's a little worried about cooking for 28 people when he moves into cohousing since everyone has to be in charge of a meal every 6 weeks. "There's going to be a lot of chili when it's my turn to cook," he says. "A lot."