2 bedroom plus lock-off suite (unit 33/34, 1,031 sq ft)
Perfect for: folks who need the most flexible space
This 3rd floor apartment is 1,031 sq ft, split between the main 2 bedroom unit (820 sq ft) and the lock-off studio (320 sq ft). The main suite has 2 north-facing bedrooms, a full kitchen with dishwasher, and a bathroom. The lock-off suite is a studio  with its own small kitchen and bathroom. It has its own front door as well as a connecting door to the main unit which can be locked from either side for privacy and security.
This is the apartment for you if you need maximum flexibility for a:
A home office
A place for a regular visitors
A mortgage helper
A space for a college student
An aging relative
A nanny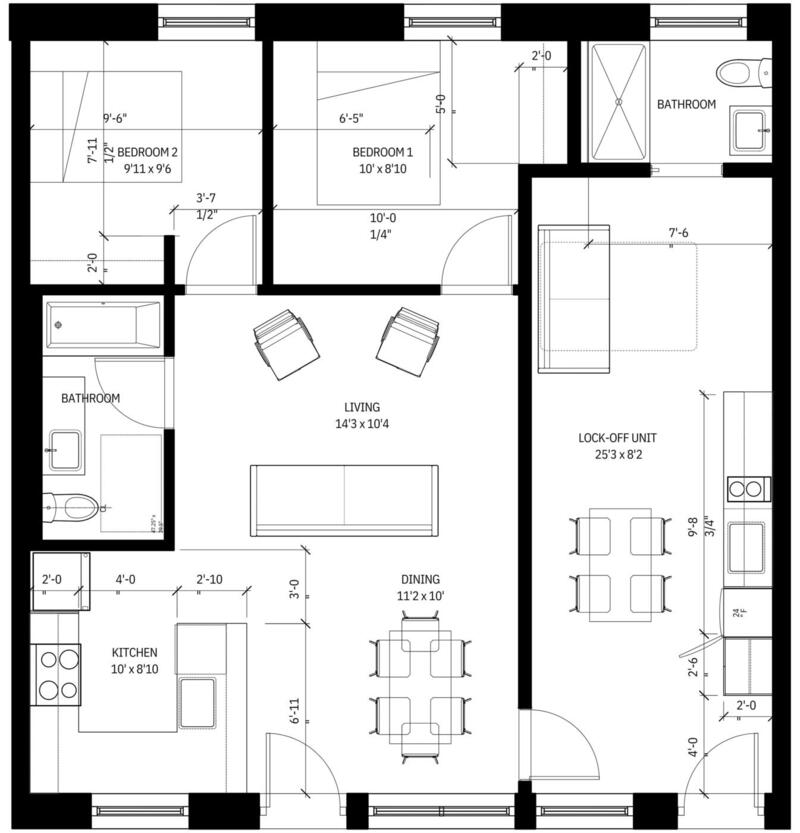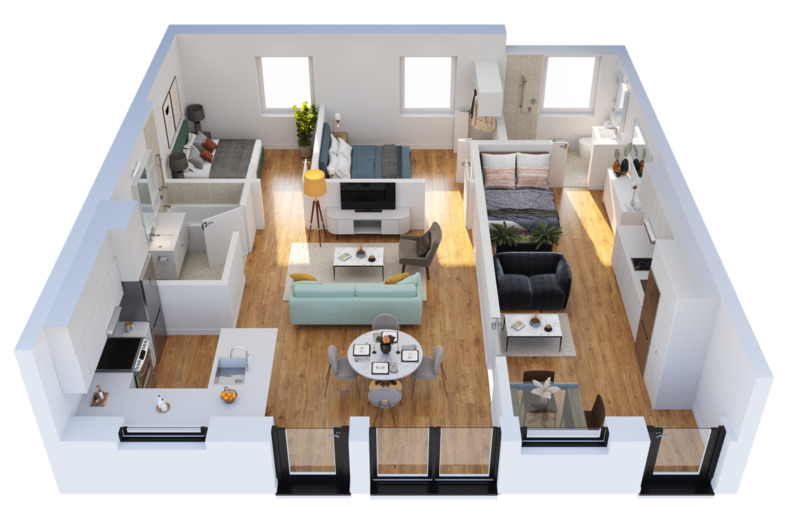 3 bedroom apartment (Unit 32, 847 sq ft)
Perfect for: young families and downsizers
Three-bedroom apartments are rarer than hen's teeth in Vancouver. This one is sized to work well for a family with kids or downsizer's who still want a guest bedroom and an office. This 3rd floor apartment is on the northeast corner of the building. This apartment is well laid out and includes a full kitchen (with dishwasher and in-suite laundry), living area and 2 bathrooms in addition to the 3 bedrooms.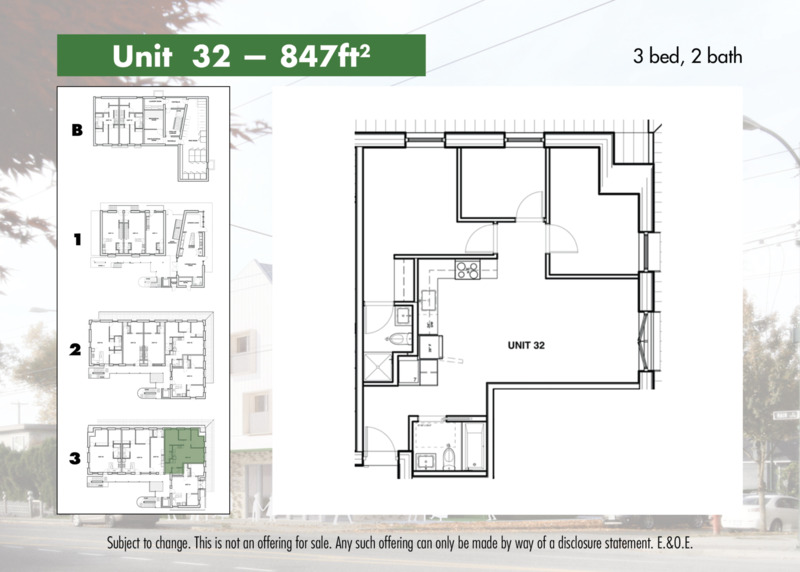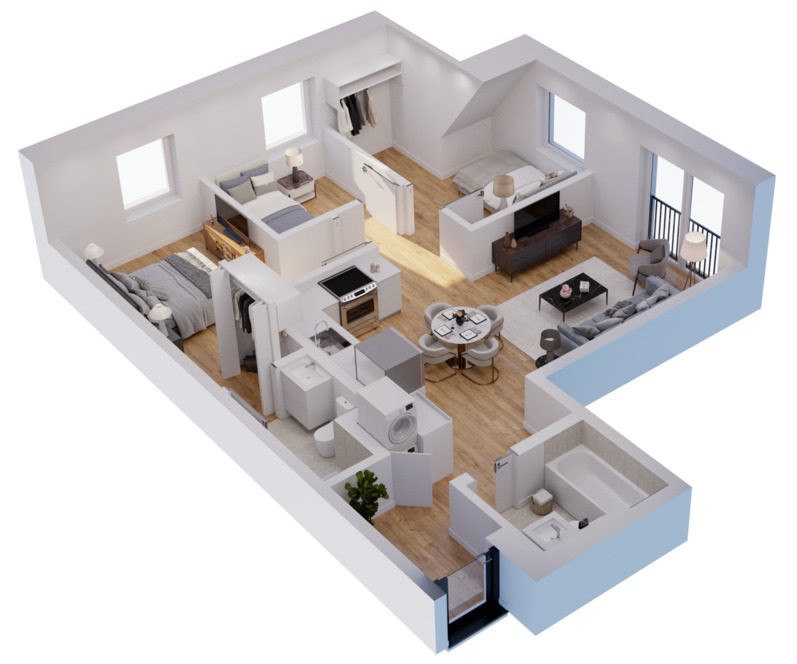 3 bedroom townhouse (Unit 13, 1147 sq ft)
Perfect for: a family that needs space to grow
You enter this apartment from tree-lined Ontario Place, up a few steps from ground level. The total area is approximately 1147 sq ft, split between the 2 levels. The upper floor includes a full kitchen with dishwasher, living area and a bathroom. Downstairs are the 3 bedrooms, a walk-in closet from the master bedroom, a second bathroom as well as an in-suite washer/dryer. The lower level will be lovely and cool during warm days while also receiving natural light from lightwells in each room.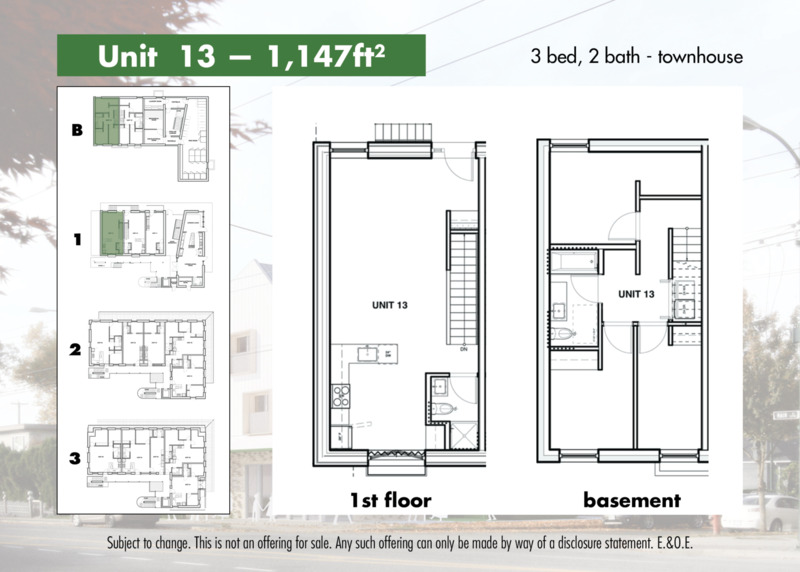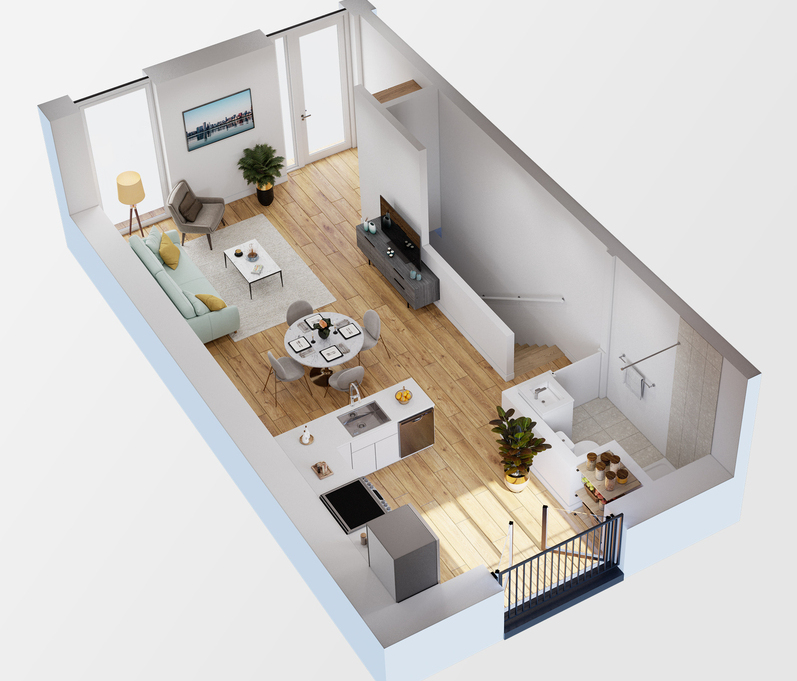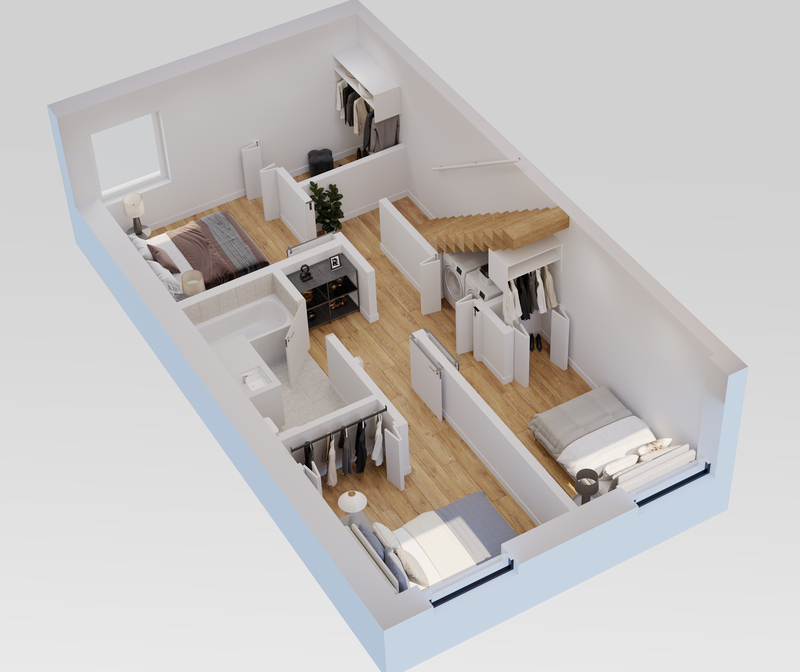 Studio (Unit 11, 494 sq ft)
Perfect for: a single person, a young professional couple or a retired couple, or someone with a disability
Our most affordable unit, this apartment feels like a townhouse with its own entrance off Ontario Place and higher ceilings (approx 13′) than the rest of the units, which makes it seem larger. It is essentially an end unit with no neighbours on the eastern side. The total area is approximately 494 sq ft and incorporates a well-thought-out design for studio-living with a kitchen, living and sleeping areas and a bathroom. No steps at the entry, wheel-chair accessible bathroom.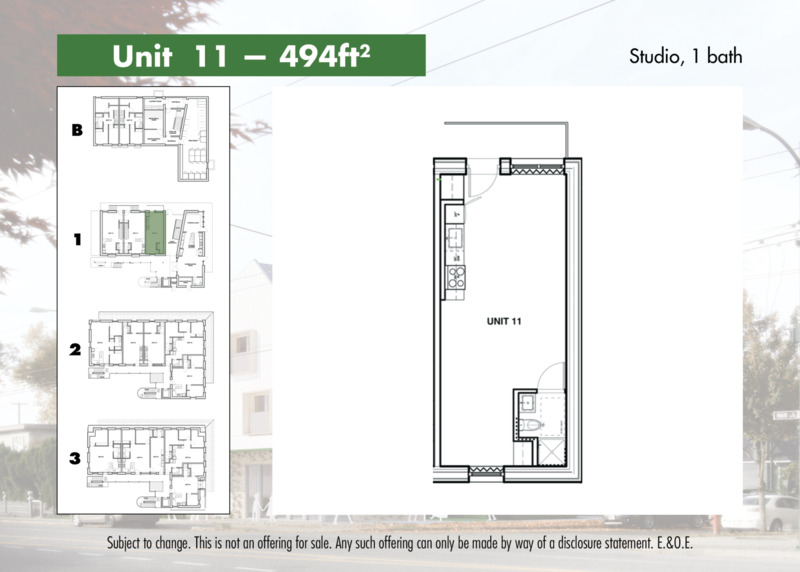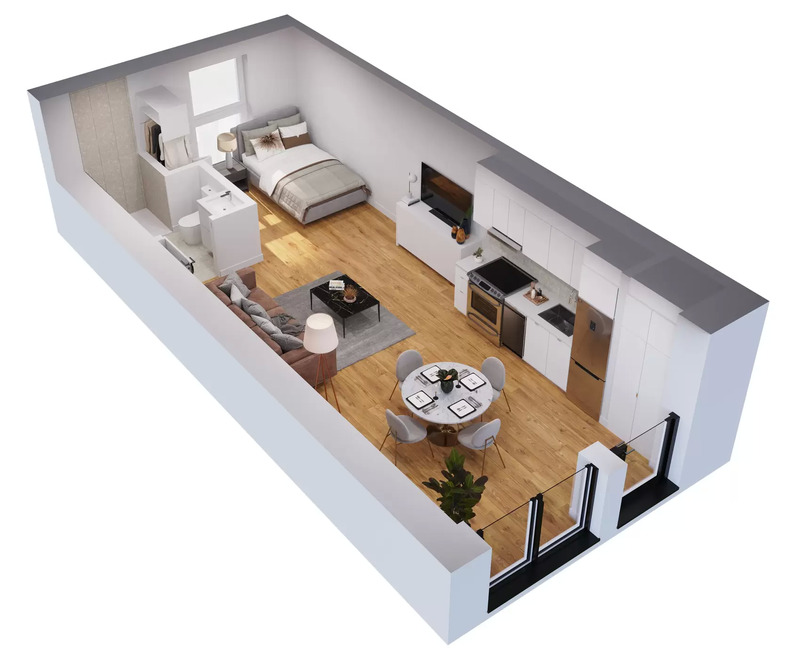 *Areas are approximate, in square feet, exclude the proportionate share of Common House and are subject to change.
** Units are now available for sale from Tomo Spaces. These are priced at market rate for Vancouver new construction (from $1450 to $1560 sft).
Interested in a unit? Contact us.
What do the units include?
Each unit is self-sufficient – like a standard condo development – with traditional amenities, including a private kitchen. Like many cohousing communities, many of the units are on the smaller side. This is because of the generous common spaces means families don't have to maintain more space than they need in their own households.