Glory bowls with Rosie Mae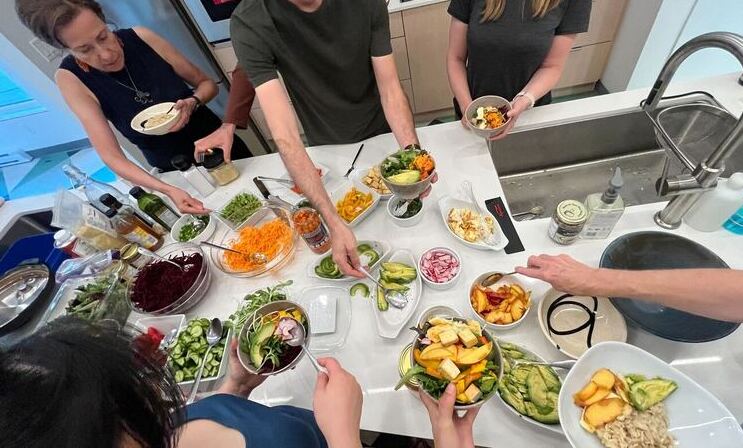 The month of July was a very busy moving month for OUV members. Not only did we move into our units, we now have a common house, lounge and courtyard to organize. Our common house is rather fabulous and equipped with vast amounts of storage cupboards. These next few months will require efforts to organize and stock our kitchen to host common meals.
When planning any kitchen, but especially one that size, it's great to talk to an expert. Our group was introduced to Rosie Mae last weekend and she gave us great tips on how to stock a kitchen, clean it and prepare meals for larger groups.
Rosie brought everything we needed to make up glory bowls. Also known as grain bowls or Buddha bowls, glory bowls normally contain a base such as rice or quinoa and then are topped with all sorts of tasty toppings.
Rosie selected a brown rice for our group of 15. One of the key questions our group had was how much rice do you make for a large group? Rosie did tell us that rice was a tricky one. On average one should plan for 1/2 cup of uncooked rice per person, but it depends on the type, what else is served with it and people's appetite. A 32 oz bag of Lundberg brown rice with 7.5 cups of water was placed in an insta-pot and that worked like magic. The rice wasn't too mushy, had a nice flavour and managed to feed our group with only a small amount left over.
Next came all the chopping of cucumbers, peppers, snap peas, green onions, mangoes, nectarines, radishes, cherry tomatoes, avocados, mint and basil. Beets and carrots were peeled and grated. Halloumi was fried gently in a pan, while the smoked tofu fried in oil with a bit of salt.
The secret to any bowl is in the sauce. Two sauces were prepared one of which was able to accommodate the needs of one of our members who cannot eat wheat or soy.
Golden Sauce
1/2 cup nutritional yeast
1/3 cup tamari
1/3 cup apple cider vinegar
1/3 cup water
2 tbsp tahini (optional)
2 garlic cloves
1 1/2 cup oil
Ginger sauce (gluten and soy free)
1/4 cup almond butter
1/4 cup fresh lime juice
1 tbsp sesame oil (or more to taste)
1 garlic clove
1/2 tsp grated ginger (add more if you wish)
1/3 cup water
Both sauces were prepared by mixing all the ingredients in a food processor.
Once prepared, a scoop of rice was placed at the bottom of the bowl, people selected their own toppings and the sauce was added. These dishes are a great way to introduce kids to creating their own meals and allows for people with allergies and dislikes to avoid toppings they do not want to eat. In addition to the toppings mentioned above, we also had mixed lettuce, pea shoots, sauerkraut and pickled carrots on hand. Needless to say nobody went home hungry and lots of fun was had.