What is Cohousing?
Cohousing is an intentional community of private homes oriented around shared space. The term originated in Denmark in late 1960s. Each unit is self-sufficient – like a standard condo development – with traditional amenities, including a private kitchen. Shared spaces typically feature a common house – which in our case incorporates a large kitchen, dining area, laundry, and indoor recreational space. Our building has been designed to encourage community interaction and relationship building, with widened outdoor walkways with space for patio furniture and a large courtyard. Households are independent, but neighbours collaboratively plan and manage community activities and shared spaces. Community activities include shared meals (3x a week for us), meetings, and many informal events. Neighbours gather for parties, games, movies, and more. Cohousing makes it easy to form clubs, organize child and elder care, and carpool. From the Canadian Cohousing Network:
"Cohousing describes the process by which a group of people work together to create and maintain their own neighbourhood. By participating in the planning and design of their housing development, residents form the bonds which are the basis of ongoing community. Cohousing emphasizes a supportive, inter-generational community, common facilities and participation by all members using a consensus process to make decisions."
Is Cohousing for You?
If you answer yes to the majority of these questions, then you might want to consider cohousing.
You want a meaningful connection with your neighbours
You want to live lightly on the earth
You want to live abundantly by sharing stuff and skills
You want to age in place
You want to raise your kids in a warm community
You celebrate diversity of people and cultures in your city
How do I balance neighbourliness and privacy?
All of us have different needs for together time and alone time that a co-housing community respects. Because you have your own unit, you can withdraw to recharge and then become more active as energy and time permits.  However, to feel connected to your neighbours, you'll want to participate in common activities when you can.
What if I want to sell my place?
You own your strata condo and can sell it anytime you want to whoever you want. For many cohousing communities, there is a wait list of people who wish to buy because they are interested in the cohousing experience. Usually, potential buyers want to meet with the community and participate in some meals to get a sense of whether cohousing works for them.  And, usually, cohousers want to sell to people who are like-minded and interested in joining the community.
Will my place retain its value?
No one has a crystal ball, so, of course we can't say for sure. But some research from the States shows that, once built, the resale price of a cohousing unit is usually more than a traditional home.
From Creating Cohousing: Building Sustainable Communities (New Society Press, 2011):
"A report completed in January 2010 by the appraisal firm of Bartholomew Associates concluded that resales in cohousing communities in Northern California (showed that) . . .  when prices were adjusted for specific differences in age, condition and location, cohousing homes sold at 11 to 63 percent premiums compared to the closest comparables. This data was collected through 2009 and thus includes the years of the great recession."
What is "cohousing lite?
Our group became interested in creating a "village" by participating in another cohousing project. We loved the concept. Cohousers buy their own apartments and share common space with their neighbours for occasional meals and other activities. They find and purchase land, design their building, and hire professionals to help them build it.
Unfortunately, the process is an onerous one (4 – 6 years or longer on average) and the vast majority of cohousing projects run into insurmountable roadblocks. This is especially true in Vancouver with its sky-high land costs and complicated building approval processes.
During our exploration we met some amazing people who we would really love to have as next door neighbors. We asked "Can we find an easier way to create the community we want?" We think we have.
By using a seasoned, quality builder of a development that's already in the planning stage, we don't have to take the significant financial risks of paying for land, or finding architects, project managers and builders.
Most important, by finding compatible and interesting neighbours who want an urban village experience, we have the great privilege of living among friends.
How are urban co-housing communities different from rural and suburban communities?
Most cohousing communities are built in suburban or rural sites because land costs are lower and there is more space for common amenities. For people who love urban living, creating cohousing is more challenging and requires new approaches. OUV is prioritizing the amenities we really need, will purchase multi-use furniture and encourage car sharing to reduce costs.  We think we can create functionality in a smaller footprint to reflect urban realities.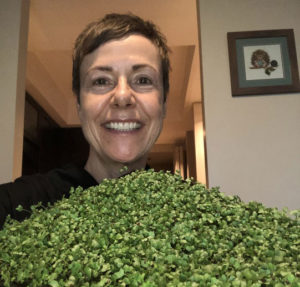 One of our members, Cathy, has been learning all about microgreens. Once we've moved in, she'll make sure we all eat our greens!