Our New Home: Tomo House
Tomo House, our new home near 41st & Main in Vancouver, is a 3-storey low-rise building with 12 strata-titled units ranging from studio to 3-bedroom. Our home is built around the confluence of private space and community life. Each of our units is a complete home: a private full kitchen, bathrooms and living space. But the heart of our community is in the space we share and the way we've created our home together.
Tomo House has been designed with incredible collaborative care by a number of passionate project participants.
Designed for community and sociability:

The heart of cohousing: the Common House, for sharing meals three times per week
Common courtyard for kids, cookouts and cake days
Extra-wide exterior walkways on upper floors
Places to bump into each other

Designed for sustainability:

Passive House construction for energy efficiency
Cycling-oriented community: Bike storage, near Ontario Bikeway
Transit-oriented location: Easy access to R4 RapidBus and Canada Line
Vehicle parking spaces for four shared vehicles, including one Modo vehicle

Designed for livability:

Windows on two sides of each unit
Large south-facing overhangs for shade
LULA Lift (Limited Use, Limited Application) creates accessibility for strollers, mobility devices and grocery loads on every unit floor
Shared laundry facility for units without in-suite laundry (studio/2-bed)
Sub-ground storage for each unit
Which units are still unclaimed?
2 bedroom plus lock-off suite (unit 33/34, 1027 sq ft)
Perfect for: folks who need the most flexible space
This 3rd floor apartment is about 1027 sq ft, split between the main 2 bedroom unit and the lock-off studio. The main suite has 2 north-facing bedrooms, a full kitchen with dishwasher, and a bathroom. The lock-off suite is a studio with its own small kitchen and bathroom. It has its own front door as well as a connecting door to the main unit which can be locked from either side for privacy and security.
This is the apartment for you if you need maximum flexibility for a:
A home office
A place for a regular visitors
A mortgage helper
A space for a college student
An aging relative
A nanny
3 bedroom apartment (Unit 32, 847 sq ft)
Perfect for: young families and downsizers
Three-bedroom apartments are rarer than hen's teeth in Vancouver. This one is sized to work well for a family with kids or downsizer's who still want a guest bedroom and an office. This 3rd floor apartment is on the northeast corner of the building. This apartment is well laid out and includes a full kitchen (with dishwasher and in-suite laundry), living area and 2 bathrooms in addition to the 3 bedrooms.
3 bedroom townhouse (Unit 13, 1147 sq ft)
Perfect for: a family that needs space to grow
You enter this apartment from tree-lined Ontario Place, up a few steps from ground level. The total area is approximately 1147 sq ft, split between the 2 levels. The upper floor includes a full kitchen with dishwasher, living area and a bathroom. Downstairs are the 3 bedrooms, a walk-in closet from the master bedroom, a second bathroom as well as an in-suite washer/dryer. The lower level will be lovely and cool during warm days while also receiving natural light from lightwells in each room.
Studio (Unit 11, 494 sq ft)
Perfect for: a single person, a young professional couple or a retired couple, or someone with a disability
Our most affordable unit, this apartment feels like a townhouse with its own entrance off Ontario Place and higher ceilings (approx 13′) than the rest of the units, which makes it seem larger. It is essentially an end unit with no neighbours on the eastern side. The total area is approximately 494 sq ft and incorporates a well-thought-out design for studio-living with a kitchen, living and sleeping areas and a bathroom. No steps at the entry, wheel-chair accessible bathroom.
*Note that all unit sizes are rounded approximations and are subject to change.
** Final prices are not yet available (as of July 2021) but our developer, Tomo Spaces, is targeting market rate for Vancouver new construction (approximately $1400/square foot). Want to know more about prices and units? Connect with us directly.
What do the units include?
Each unit is self-sufficient – like a standard condo development – with traditional amenities, including a private kitchen. Like many cohousing communities, many of the units are on the smaller side. This is because of the generous common spaces means families don't have to maintain more space than they need in their own households.
What is the common house like?
Shared spaces in cohousing typically feature a common house – which in our case incorporates a large kitchen, dining area, lounge, laundry room, bike room and storage room.
Our common house is about 1,000 square feet. It is where we will share three meals per week and all kinds of other activities are possible. We haven't yet decided on the look and feel of the room, but in cohousing we have the opportunity to make it "ours"!
Who is the developer? What is 'cohousing lite'?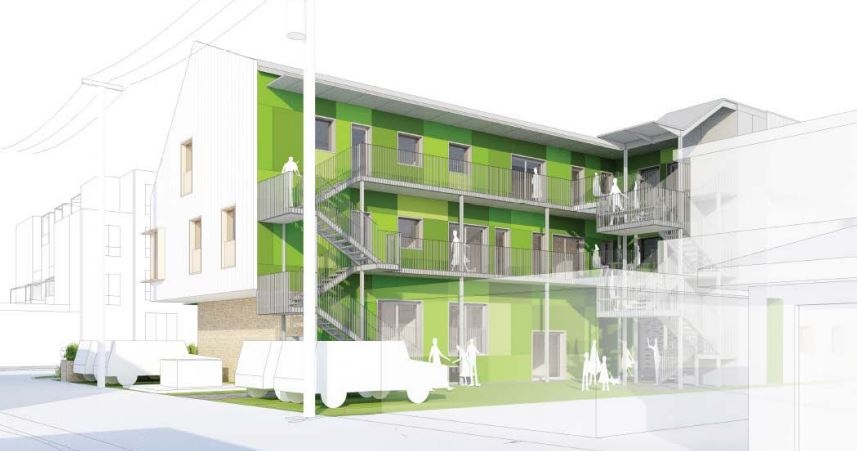 OUV has partnered with innovative developer Tomo to build a new cohousing model for Vancouver called "cohousing light". Tomo stands for "together more," a name that reflects their belief that buildings should be designed to support the relationships of people who live in them. Tomo owned the land and has been working with the OUV community to create a project that looks and functions like any other cohousing community, but uses a streamlined process. Tomo absorbs most of the project risk, stickhandles the complex rezoning and development permitting process, and coordinates the contractors while OUV members focus on building our community, developing living together agreements, and bonding without having to dive into the details.