About Our Development
Our building is a 3-storey low-rise building with 12 strata-titled units, ranging from studios to 3-bedrooms. We expect to break ground in the Spring of 2021 and move in late 2022. It features the following amenities:
Common house for shared meals, activities (includes our shared laundry facility)
Common outdoor area
Bike storage room plus additional storage area designed for cargo/family bikes
Passive House construction for energy efficiency and comfort
Four shared vehicle parking spaces, including one car-share program vehicle
Exterior walkways on upper floors (allowing windows on two sides of each unit) with exterior patios
High ceilings
Our building has been designed to encourage community interaction and relationship building, with a large courtyard at the centre of our development and wide outdoor walkways with space for patio furniture on upper floors.
Most units are market-rate; three are affordable
Nine of the units are market-rate units. Final prices are not yet available (as of March 2021) but our developer, Tomo Spaces, is targeting market rate for Vancouver new construction (approximately $1200-1300/square foot). Want to know more about price range targets and units? Connect with us directly to learn more about OUV.
Three of the units — a studio, a 2-bedroom, and a 3-bedroom, are priced roughly 35% below market rate under the innovative new Affordable Home Ownership program; OUV is one of Vancouver's first developments under this program. (Please note that all three of these units have Equity Members lined up already.)
What units are in the building?
We are excited that our units represent a range of sizes and types, and that we have a large number of ~3 bedroom units that will accommodate family living in the city.
Units are as follows:
| Unit # | Floor | Type | ~Size(sq ft)* |
| --- | --- | --- | --- |
| 11 | Ground | Studio | 525 |
| 12 | 2-level: first and garden | 3-bed Townhouse | 1150 |
| 13 | 2-level: first and garden | 3-bed Townhouse | 1150 |
| 21 | Second | 2-bed | 750 |
| 22 AHOP | Second | 3-bed | 875 |
| 23 | Second | Studio | 525 |
| 24 AHOP | Second | 1-bed | 525 |
| 25 AHOP | Second | 2-bed | 825 |
| 31 | Third | 2-bed | 650 |
| 32 | Third | 3-bed | 850 |
| 33 | Third | 2-bed + lockoff | 1050 |
| 34 | Third | 2-bed | 800 |
*Note that all unit sizes are rounded approximations and are subject to change.
AHOPs are our Affordable Home Ownership Program units – see above.
Which units are still unclaimed?
Our members make their final unit selection at the time that units are offered for sale in the order that they became an equity member. We invite you to connect with us directly to find out exactly what units are still available. At this time (March 2021), four units are still unclaimed in these sizes: 2 bedroom; 2-bedroom plus lockoff; and 3 bedroom (including both the smaller and larger 3 bedroom types).
What do the units include?
Each unit is self-sufficient – like a standard condo development – with traditional amenities, including a private kitchen. Like many cohousing communities, many of the units are on the smaller side. This is because of the generous common spaces, like a guest suite, means families don't have to maintain more space than they need in their own households.
What is the common house like?
Shared spaces in cohousing typically feature a common house – which in our case incorporates a large kitchen, dining area, a large guest suite for visitors, laundry, and indoor recreational space.
Our common house is about 1,000 square feet. It is where we will share three meals per week and all kinds of other activities are possible. We haven't yet decided on the look and feel of the room, but in cohousing we have the opportunity to make it "ours"!
Who is the developer? What is 'cohousing lite'?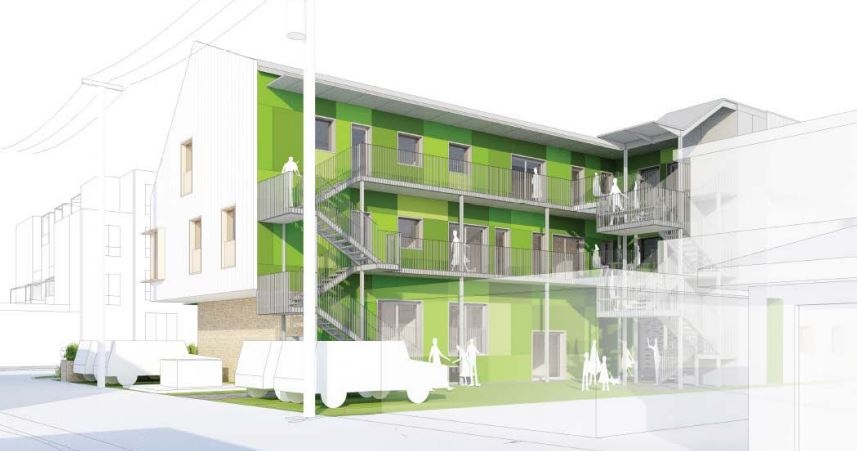 OUV has partnered with innovative developer Tomo Spaces to build a new cohousing model for Vancouver called "cohousing lite". Tomo stands for "together more," a name that reflects their belief that buildings should be designed to support the relationships of people who live in them. Tomo Spaces owned the land and has been working with the OUV community to create a project that looks and functions like any other cohousing community, but uses a streamlined process. Tomo absorbs most of the project risk, stickhandles the complex rezoning and development permitting process, and coordinates the contractors while OUV members focus on building our community, developing living together agreements, and bonding without having to dive into the details.